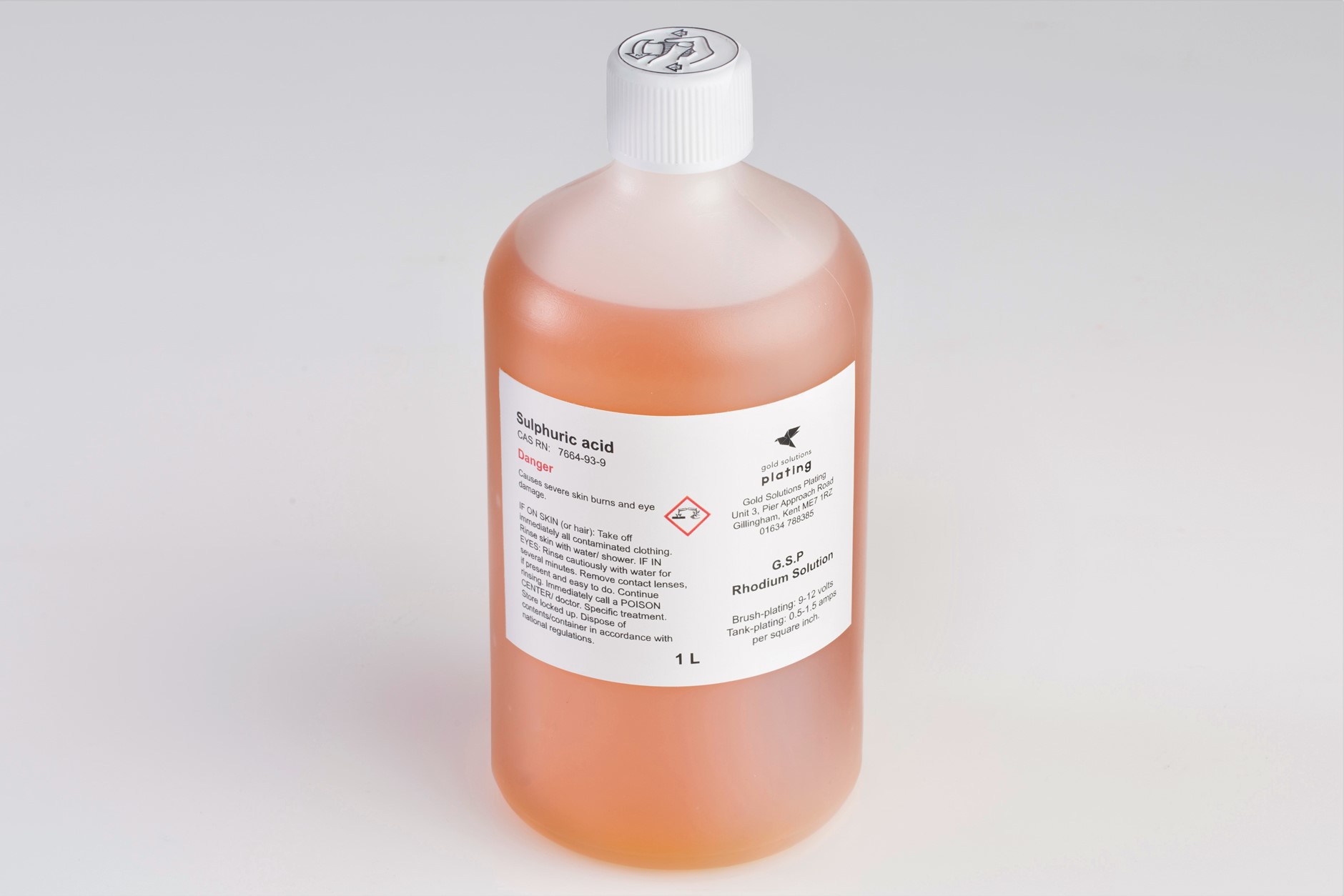 G.S.P Rhodium Plating Solution
Our G.S.P Rhodium Plating Solution contains 2 grams of rhodium per litre and is suitable for both tank plating and brush plating. The solution contains anti-burn technology which means that you do not need to worry about dark marks after plating, and produces a brilliant white, very hard-wearing finish. It is mainly used on jewellery, in particular engagement and wedding rings, and is formulated to plate more efficiently into recesses for e.g. detailing on rings, to give easier and more complete coverage than other rhodium plating solutions.
Rhodium is often referred to as white gold, although this is something of a misnomer. White gold rings are often plated in rhodium because rhodium has a much whiter finish, which leads to this misconception.
Rhodium is one of the most valuable metals on Earth, many times more valuable than gold. Our G.S.P Rhodium Plating Solution does not need to be heated, though some people prefer to heat it to speed up the plating process. Unless you are plating over gold, white gold, or palladium, we recommend a flash-plate with our 24K Gold Solution prior to depositing rhodium, as the plate will adhere more easily.
This solution forms part of our G.S.P Home Jeweller Kit (available separately), a popular choice for those wishing to re-plate and rejuvenate their white gold rings, restoring them to their former brilliance.
For optimum performance, use with our G.S.P Brush Plating Probes or 316 Stainless Steel Flat Tank Plating Anodes.
For a cheaper alternative to rhodium, please see our G.S.P Platinum Solution.
Please note: this solution should not be diluted, cannot be used in conjunction with any of the kits in our G.S.P Portal range and is not suitable for pen plating.
(Image shows 1L bottle)
This product is currently in high demand. Although shipping is sent with a 24hr courier, the dispatch itself may take 4-5 working days. Please allow an extra few days to ensure delivery on time and to avoid disappointment.
Overview of use
Instructions for use of:
G.S.P Rhodium Plating Solution
Pen plating:
N/A
Brush plating:
3 volts
Tank plating:
0.02 amps per cm2
Additional notes:
Just like platinum, rhodium requires a very highly polished substrate to look brilliant white.
Our rhodium plating solution should not be diluted.
Technical Specs
Description:
Rhodium plating solution
Use:
Decorative finish
Plating modes?
Brush, tank
Does it require heating?
None required, but heating to 40 degrees Celsius will increase plating speed.
Is it suitable for use with G.S.P Brush Plating Probes?
Yes
Part of Mirror Tech System?
No
Additional information:
Used mainly on white gold rings and is synonymous with the term 'white gold'.
Safety information:
This chemical is classed as hazardous, always wear appropriate personal protective equipment (PPE) and ensure that you read and follow the Safety Data Sheet supplied for details on how to stay safe.
Related products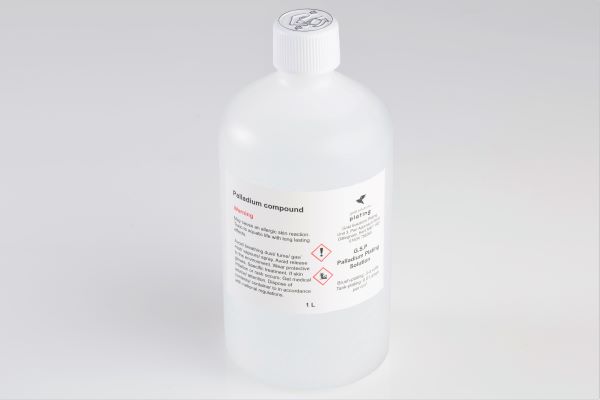 Choose options
We Accept