Tell me more...
At Gold Solutions Plating, we strive to continually improve and refine the products that we offer, to ensure their maximum performance and ease of use. We are pleased to introduce our latest innovation: Mirror-Tech System™, a brand-new way of bringing a radiant mirror shine to your items without the need for buffing.
What is the Mirror-Tech System™?
We know that your time is precious and that manually buffing an item for plating, whilst fine for smaller items, can be quite laborious when items are larger. We also recognise that detailed items can be a nightmare to polish! For these reasons, we have created a system that negates the need for extra work, relieves the stress of buffing detailed items, saving you time and effort, and giving you commercial quality results.The Mirror-Tech System™ is designed for use in conjunction with tank plating and is available now from Gold Solutions Plating.
The Mirror-Tech System™ features a combination of high-quality solutions and accessories. It boasts specially enhanced versions of our nickel plating and electroforming solutions and a range of Mirror-Tech anodes and plating equipment that should be used in conjunction with them.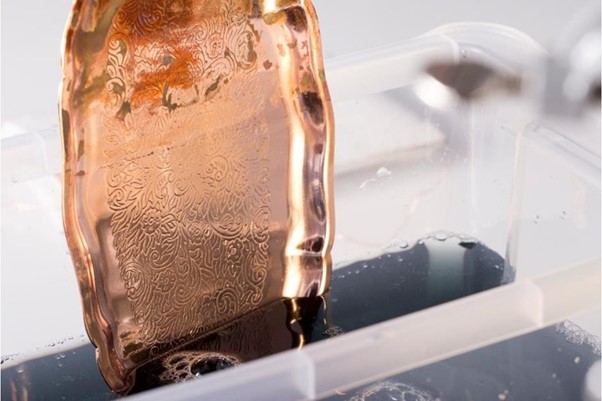 Oxidised copper tray, lowered part-way into G.S.P Electroforming Copper, utilising the Mirror-Tech System™ and plated for 20 minutes. Top section of tray remained outside the tank in its original state, note how the shiny the plated area is, no polishing involved before or after.
Plastic gold plated PS4 Controller, painted in conductive paint and electroformed using Mirror-Tech System™.
Electroformed copper plated plastic skull with chrome-levels of shine.
Electroformed and 24k gold plated real rose with a highly glossed, wet-look shine.
Corn snacks electroformed and plated in real 24k gold - taking them from crumbly snacks to rock-solid objects with a mirror-shine.
How can I take advantage of the Mirror-Tech System™?
The following products are incorporated in the Mirror-Tech System™ and feature as part of the electroforming kits in our G.S.P Prodigy Range and our G.S.P Recruit BR2 Kit:
10A SmartAmp Plating Machine
G.S.P Electroforming Copper Solution
G.S.P Nickel Plating Solution
PDO Copper Anodes with anode bags or Copper Tank Conversion Kit
Nickel Anodes with anode bags or Nickel Tank Conversion Kit
Why not check out the kits and give the Mirror-Tech System™ a go?
Please note: all of the products listed above work in combination to produce a mirror-finish, no one element on its own will do the job. Our 10A SmartAmp Plating Machine is required in all circumstances, our 0.6A Portable Plating Plug and 2.25A Portbale Plating Plugs are not compatible.