Hello, we are Gold Solutions Plating – suppliers of home electroplating and electroforming kits and chemicals. Based in south-east England, we have supplied kits, chemicals, and technical advice to thousands of happy customers since 2007. This has led to our success as industry leaders in the field of home plating.
We enjoy working with a wide range of clients - from hobbyists to independent and larger businesses and manufacturers with a variety of interests. We have supplied retro toy enthusiasts that have used our kits to restore and reimagine their favourite toys, independent jewellery designers that have utilised electroforming to create unique and quirky pieces not seen on the high street and manufacturers that wish to use electroplating to protect industrial machine parts. We have even enabled movie prop designers to bring their vision to light. Check out 'The Sweeney' 2012 starring Hayley Atwell and Ray Winstone – that gold bullion was plated with products from Gold Solutions Plating!
It is understandable that the prospect of electroplating and/or electroforming can sometimes seem a little daunting to the uninitiated, but if you choose us as your supplier, it is in our interest that your work is successful. We pride ourselves on ensuring that we equip all our customers with high quality equipment, suited to a range of different budgets, and the confidence to use it effectively and proficiently to produce great results. Our motto is: there is no such thing as a silly question!
At Gold Solutions Plating, we operate as a team with a breadth of knowledge and creativity drawn not just from the field of plating but from the product design industry and the discipline of fine art. We continually seek out opportunities for professional development so that we can grow our expertise and better assist you.
Our desire to evolve has led to us pursuing new and innovative approaches to product development. One example is the Gold Solutions 'Mirror-Tech System™' - a way of bringing a radiant mirror shine to your items without the need for any buffing.
We thrive on being creative, working together and developing strong, collaborative business relationships with our customers, delivering a hands-on and personalised service with a bespoke aftercare package tailored to suit you.
Please browse our site, check out our products and find out more.
Please get in touch if there is anything that we can help you with. Happy plating!
Paul and Kirsty, Owners, Gold Solutions Plating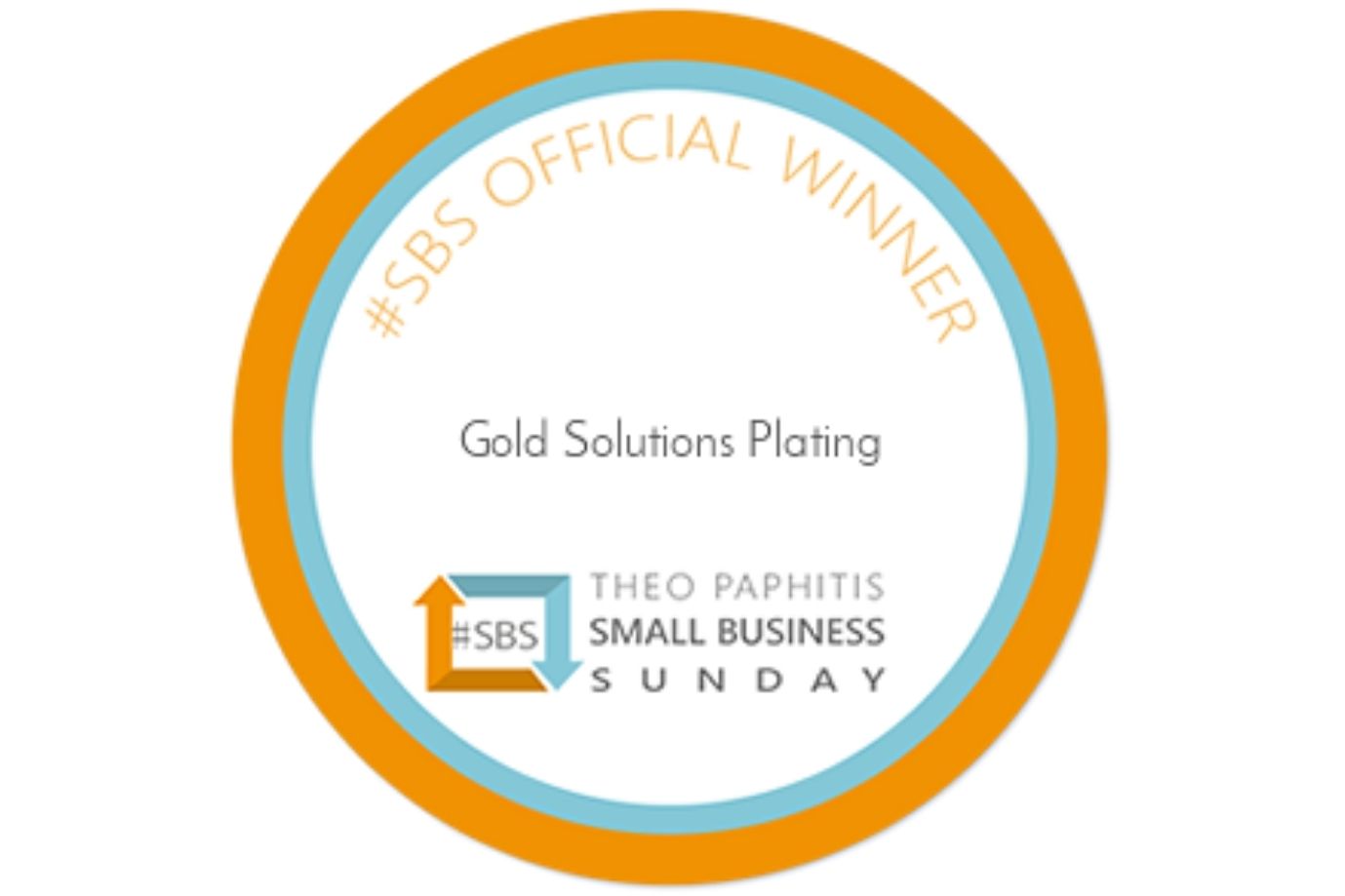 We are very proud to announce that we were chosen as winners of Small Business Sunday or #SBS on 30.08.21 by Theo Paphitis - chairman of Ryman Stationery, Robert Dyas, and Boux Avenue and famous 'dragon' in BBC's Dragon's Den, who runs the initiative that supports businesses in the UK. Theo tweeted about us to his almost 500,000 Twitter following to help boost our profile and spread the word about what we do. We hope to share some photos of us collecting our award from him at the annual SBS Event, in the near future.
More on this to come...