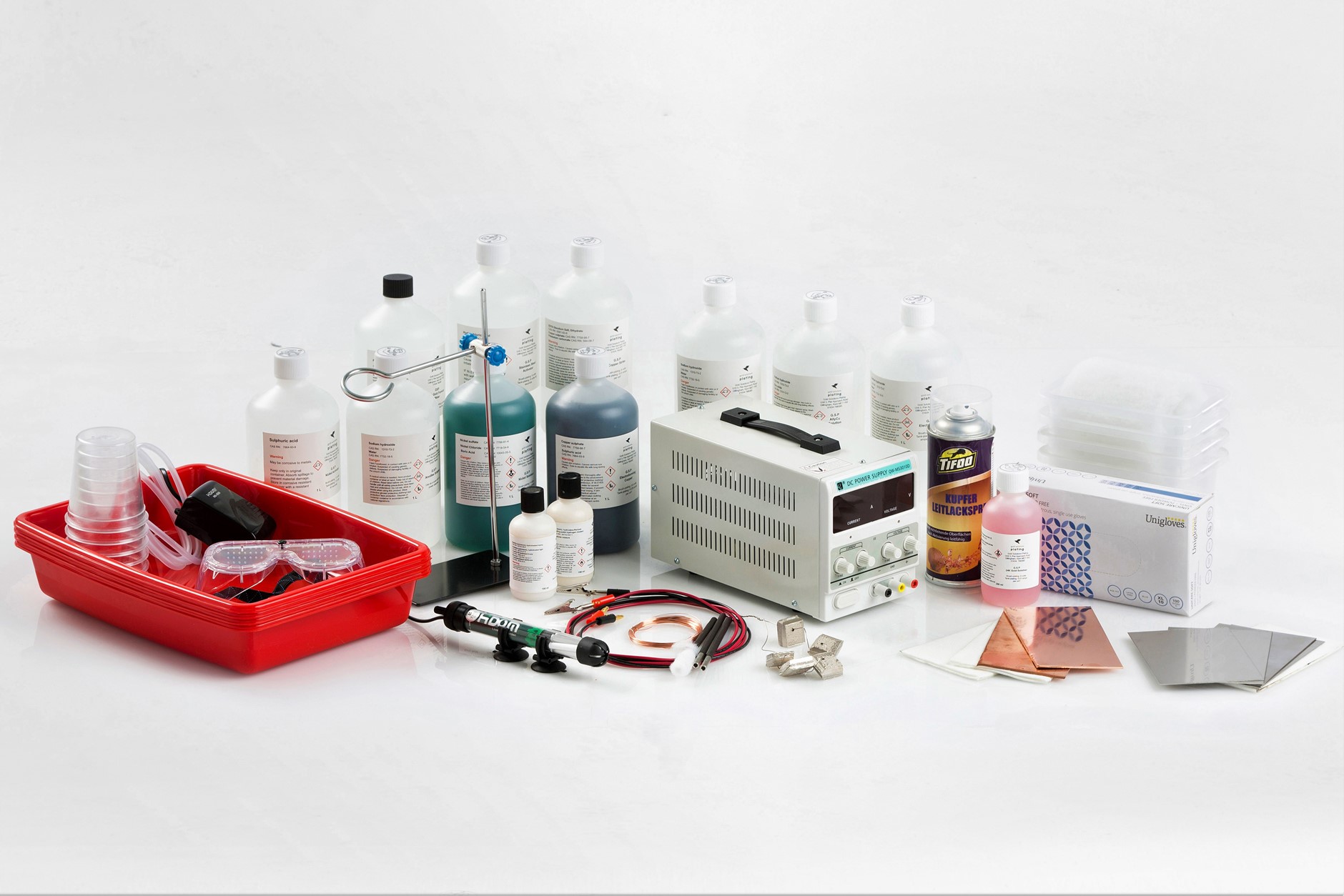 G.S.P Recruit BR2 Brush Plating / Electroplating / Electroforming Kit
The G.S.P Recruit BR2 Kit is a great electroforming starter kit for gold plating. It comes complete with everything you need to tank electroform non-conductive items and then apply the 24K gold finish via brush plating.
Brush plating the gold is effortless and can be performed on a wide variety of metals, with no limit on the size of objects that can be plated. The process is a breeze and includes robust and reliable equipment which is suitable for heavy use.
The Recruit BR2 utilises our Mirror-Tech System™, producing a mirror-shine, straight out of the tank, with no need for buffing or polishing. This is thanks to the 10A SmartAmp Machine with integrated plating technology, which achieves this flawless finish on items up to the size of 274cm2.
As a bonus, with the simple addition of 1 litre of our G.S.P 24K Gold Plating Solution or G.S.P Tank Gold Plating Solution (sold separately), you will have a complete tank-only process from plastic to gold. The kit comes with gold solution as standard but is compatible with all precious metals, just browse our selection of chemicals if you would like to purchase an additional finish.
This kit comes complete with our 5 Point Support Package and is an excellent choice.
Please note: The style/colour/appearance of the included SmartAmp Plating Machine may vary from the photograph, this does not affect the functioning/technical specifications of the product.
Contents Listing
This kit contains:
10A SmartAmp Plating Machine
50ml 24K Brush Plating Gold Solution
1 litre G.S.P Electroforming Copper with Mirror-Tech System
1 litre G.S.P Nickel Plating Solution with Mirror Tech System
1 litre G.S.P Electrocleaner
1 litre G.S.P Nickel Activator
1 litre G.S.P Stainless Steel Activator
1 litre G.S.P Chrome Stripper
400ml Copper Electroforming Spray Paint
50ml Copper Brightener Part A
50ml Copper Brightener Part B
100ml G.S.P Compound Polish
100ml G.S.P Gold Polish
4 x 1 litre tanks
2 x PDO Copper Flat Anodes + Anode Bags
1 x Nickel Anode + Anode Bag
4 x Stainless Steel Anodes
4 x Brush Plating Probes
1 x Tank heater
1 x Tank Agitator
1 x Retort Stand
Wire wool
6 x Chemical Resistant Brush Plating Pots
1 x box Vinyl Safety Gloves
1 x pair of safety goggles
1 x set of red/black plating leads
2 x Copper Rigging Wire
1 x Large bundle of swabbing (for brush plating)
4 x Plating Trays
Pack of plating nibs (for brush plating probes)
Instruction E-Manuals (including tutorial)
6 x practice pieces (used in conjunction with tutorial)
5 Point Package of Support
Overview of use
Full detailed instructions are supplied with this kit.
Here is a general overview of the electroforming process using plastic as an example:
Step 1: Spray paint the item with the supplied conductive paint.
Step 2: Rig the item to the copper wire.
Step 3: Lower into electroforming tank having calculated the surface area.
Step 4: After 3 to 6 hours, remove the item from the tank. Item will be mirror shiny. Now rinse the item.
Step 5: Lower into the nickel tank for 2-5 minutes and rinse.
Step 6: Nickel activate the item for 40 seconds and rinse.
Step 7: Brush plate the G.S.P 24K Gold Solution over and over the item, building up thickness.
Click to see full-length tutorial here.
For tank plating all metals see: How to Plate Various Metals.
Technical Specs
Name of kit:
G.S.P Recruit BR2 Brush Plating / Electroplating / Electroforming Kit
Which plating machine is supplied in this kit?
10A SmartAmp Plating Machine: 10-amp machine with integrated plating technology.
Please note that this machine comes with a UK plug - to use in the US or other countries, all that is required is a plug converter - this will convert a UK 3 pin plug into a standard 2 pin mains plug. These are inexpensive and available in hardware stores / online. Your converter does NOT need to be a step up/step down adapter, just a regular converter that can be purchased, to take the US as an example, for around $8.
What is the maximum amp output of the supplied plating machine?
10 amps
Plating modes:
Pen, brush, tank
Mirror Tech capabilities:
This kit contains a complete Mirror Tech system.
Is this kit compatible with all Gold Solutions Plating chemicals / solutions?
Yes, additional / alternative precious metal finishes can be purchased separately.
Does this kit come with the G.S.P 5 Point Support Package?
Yes
Additional information:
The 50ml of gold supplied with this kit is enough to allow for the gold to be brush plated. However, the kit can be expanded for tank plating in gold, all that is needed is an additional purchase of G.S.P 24K Tank Gold Solution (1 litre). The tanks and anodes required to do this are already included in this kit.
Safety information:
This kit contains chemicals which are classed as hazardous, always wear appropriate personal protective equipment (PPE) and ensure that you read and follow the supplied Safety Data Sheets for each chemical for details on how to stay safe.
We Accept