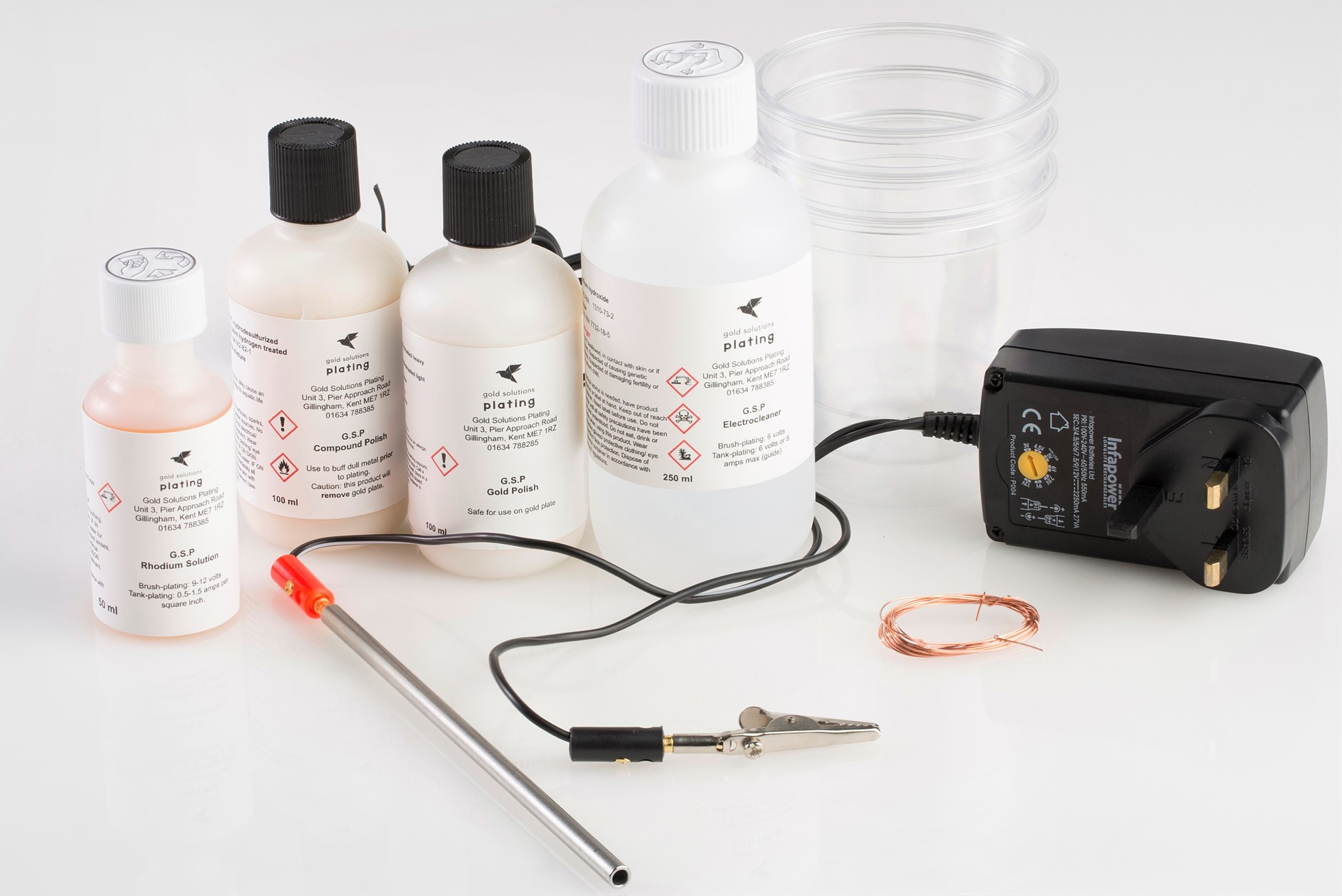 G.S.P Home Jeweller White Gold Ring Plating Kit with Platinum
Introducing the Home Jeweller Platinum Edition from Gold Solutions Plating.
Over time, white gold rings appear to 'yellow', this is due to the white coloured rhodium surface wearing away, revealing the slightly yellow white gold metal underneath. This is undesirable, especially if your wedding and engagement rings do not become discoloured at the same rate, and usually results in a trip to the jewellers costing £40-£60 for a rhodium replating service, which typically lasts for 6 months to a year.
Why choose our platinum instead of rhodium?
The price of re-plating services for rings is constantly going up due to the world market price of rhodium, which is substantially higher at the moment. A much more economical solution is to use our platinum solution, which, unlike other platinum solutions which commonly plate to a grey tone, has been specially formulated to be just as white as rhodium and very hard-wearing. Take a look at the compositive photograph above which demonstrates how little difference there is between a ring plated in rhodium and a ring plated in our platinum.
The G.S.P Home Jeweller allows you to re-plate your rings in under ten minutes, using the same solutions and technology as those used at the jewellers, but in the comfort of your own home and at a fraction of the cost per ring. The kit is safe for all white/yellow gold rings*, with or without stones, requires a small working area and is simple and easy to use. It contains enough platinum to plate between 25-35 rings, with platinum re-fills available from us if you run out, and we provide full instructions to ensure great results. If you choose to plate in another finish such as gold or rose gold, your kit will be more than capable, just enquire about the purchase of the additional required solutions!
The Home Jeweller is an ideal treat for yourself and also makes a lovely and unique gift for newlyweds, who will be sure to appreciate the future use of the kit to keep their rings looking as beautiful as they did on the day of their wedding.
*With the additional purchase of G.S.P Palladium Solution 50ml, you can also plate over silver rings. Please see FAQ tab below for information on plating over silver.
How does it work?
Please see our product video below. This video shows our Home Jeweller Rhodium version but the process for plating in platinum is exactly the same.
Please note: The product photo shows 50ml Rhodium Solution but with this kit you will be provided with 50ml Platinum Solution. See contents tab for full details of what is included.
Limited Period Gift Wrap Service
Free gift wrapping is available with this product. Wrapping is neutral in design and suitable for all occasions such as birthdays, Valentine's Day, anniversaries, and general gifting. Please leave a note in the section marked 'Customer Notes' at checkout if you would like this, stating: Gift Wrapped.
Important: If no note is left, your product will not arrive wrapped. Please email us no later than 1 hour after purchase if you forget to add on the service and would like to. The general design of the gift wrap will be selected at random, we cannot accept specific design requests.
This product is currently in high demand. Although shipping is sent with a 24hr courier, the dispatch itself may take 4-5 working days. Please allow an extra few days to ensure delivery on time and to avoid disappointment.
Contents Listing
This kit contains:
2.25A Portable Plating Plug
50ml G.S.P Platinum Plating Solution
100ml G.S.P Nickel Activator
250ml G.S.P Electrocleaner
100ml G.S.P Compound Polish
100ml G.S.P Gold Polish
4 x Chemical resistant pots
1 x Plating Probe
Wire Wool
1 x Copper Wire
Instruction manual
Overview of use
Full, detailed instructions are included with this kit.
The process for platinum plating a ring with this kit generally consists of:
Step 1: Polish / clean ring
Step 2: Lower into electrocleaner for 3 minutes then rinse.
Step 3: Lower into platinum solution for 1 minute – 1.5 minutes.
You may then wish to lightly polish the ring if necessary.
Frequently Asked Questions
Is the kit easy to use?
The kit requires no prior knowledge or experience with plating and the process is simple and quick. You are provided with a clear set of instructions to follow, the process consists of a few short main steps and these are highlighted in our product video.
Please note: this video shows the Home Jeweller Rhodium Kit but the exact same process is used for our Home Jeweller Platinum Kit.
Will this harm my rings?
No, the solutions used are completely safe for use on all white / yellow gold rings regardless of style or the inclusion of stones.
How much does each ring cost to plate versus the jewellers?
The average cost of a replating service at a high-street jeweller is £40-£60. If you factor in the cost of the full kit when estimating the cost of your first 35 rings, this works out at around £3.59 per ring. From then on, as you already own all of the equipment needed to re-plate your rings, you will only need to purchase a platinum re-fill and this will then bring the cost per ring down to £1.14.
How much is a platinum re-fill?
The cost of a 50ml platinum re-fill from us is £39.99.
Can I also plate over yellow gold rings with this kit?
Yes! We include a bonus product with the kit - our G.S.P Nickel Activator Solution, which enables you to plate yellow gold rings in platinum. It is common for yellow gold rings to contain nickel, particularly if the ring is older, and this needs activating in order for it to be possible to plate the platinum on top. This simply requires an additional short step during the plating process and is explained in the product instructions. G.S.P Nickel Activator will cause no harm to yellow gold rings that happen to not contain nickel, so is recommended for use each time a yellow gold ring is plated in platinum.
Can I also plate over silver rings with this kit?
Yes! Although it does require the use of our G.S.P Palladium Plating Solution 50ml. This is due to the fact that silver has a tendency to cause migration of the top coat of platinum. This means that a short while after plating, the platinum will migrate (sink) down into the silver, causing discolouration in the final plated finish. To avoid this, a thin layer of palladium should be plated before plating the platinum. This forms a barrier which prevents migration and gives a flawless finish. This step adds just 40 seconds to the process of plating your rings and you'll receive full instructions on how to use the palladium.
Nickel is often used in barrier plating, but due to the allergies that it can cause, is not permitted for use when plating jewellery. Palladium is a brilliant allergy-free alternative. Purchasing a 50ml bottle of palladium to go with your Home Jeweller Kit gives you extra flexibility for plating over silver pieces and will last a very long time as a little goes a long way.
Please note: Palladium is only necessary for plating over silver.
To add this to your order see: G.S.P Palladium Plating Solution
How long will the platinum plating last?
Just like at the jewellers, how long the plating lasts depends on the user and the activities that they do whilst wearing the ring e.g. wearing your ring whilst washing up can accelerate the wearing of the platinum plate. An individual's skin ph also plays a part, and this will vary from person to person.
Please be aware that the use of hand-sanitisers and soaps play a part in reducing the life-span of plating. This is particularly important to note at the moment, as the Coronavirus pandemic has seen us all using sanitisers much more often throughout the day. We recommend removing rings when sanitising and replacing once hands are dry.
On average, expect your plating to last for 6 months to a year before the process will need to be done again. Your ring will require replating at the same rate as it would if you had taken it to the jewellers.
How long do the solutions last?
The plating solutions with this kit last indefinitely, provided that they are not allowed to freeze and are not stored in direct sunlight. This is a huge benefit for customers who only wish to plate a few rings at the time of purchase, as they can store the plating solutions for a long period of time and they will remain suitable for future use.
How is the plating kit packaged?
Your kit will be packaged securely to protect the contents in plain un-branded packaging. We also like to reuse packaging such as boxes where possible to cut down on waste and to keep the cost of the kit down. We offer a free gift-wrap service if the kit is being given as a present, see main description for details.
How should I take care of my platinum plated rings?
Please see our article: How to Take Care of Plated Jewellery for a guide to keeping plated jewellery looking great.
Does this platinum plating kit pose any health risks?
If the kit and solutions are handled responsibly, as per the instructions, they pose no more of direct health risk than other commonly used house-hold products such as bleach. You should always keep any chemicals away from children and animals and take due care and attention when handling them. This kit should be used by adults of 18 years and above only.
Technical Specs
Name of kit:
G.S.P Home Jeweller Platinum Edition
Which plating machine is supplied in this kit?
2.25A Portable Plating Plug. This is a dial operated, selectable voltage plating plug.
Please note that this machine comes with a UK plug - to use in the US or other countries, all that is required is a plug converter - this will convert a UK 3 pin plug into a standard 2 pin mains plug. These are inexpensive and available in hardware stores / online. Your converter does NOT need to be a step up/step down adapter, just a regular converter that can be purchased, to take the US as an example, for around $8.
What is the maximum amp output of the supplied plating machine?
2.25 amps
Plating modes:
Mini tanking
Mirror Tech capabilities:
No
Is this kit compatible with all Gold Solutions Plating chemicals / solutions?
It is compatible with all our solutions / chemicals except G.S.P Tank Gold Solution.
Does this kit come with the G.S.P 5 Point Support Package?
No
Additional information:
Specifically designed for plating platinum over white / yellow gold.
Since the beginning of the Coronavirus pandemic, we have all been using an abundance of soap and sanitiser and most of us are using it much more frequently than we did before. The chemicals and compounds in these products can almost certainly affect the quality of your plated jewellery and can cause tarnishing that may be difficult to remove. They can also cause a dull, patchy appearance in the plating and are best avoided whilst wearing rings. We recommend removing plated rings before sanitising and replacing them once hands are completely dry.
Safety information:
This kit contains chemicals that are classed as hazardous, always wear appropriate personal protective equipment (PPE) and ensure that you read and follow the supplied Safety Data Sheets for each chemical for details on how to stay safe.
We Accept