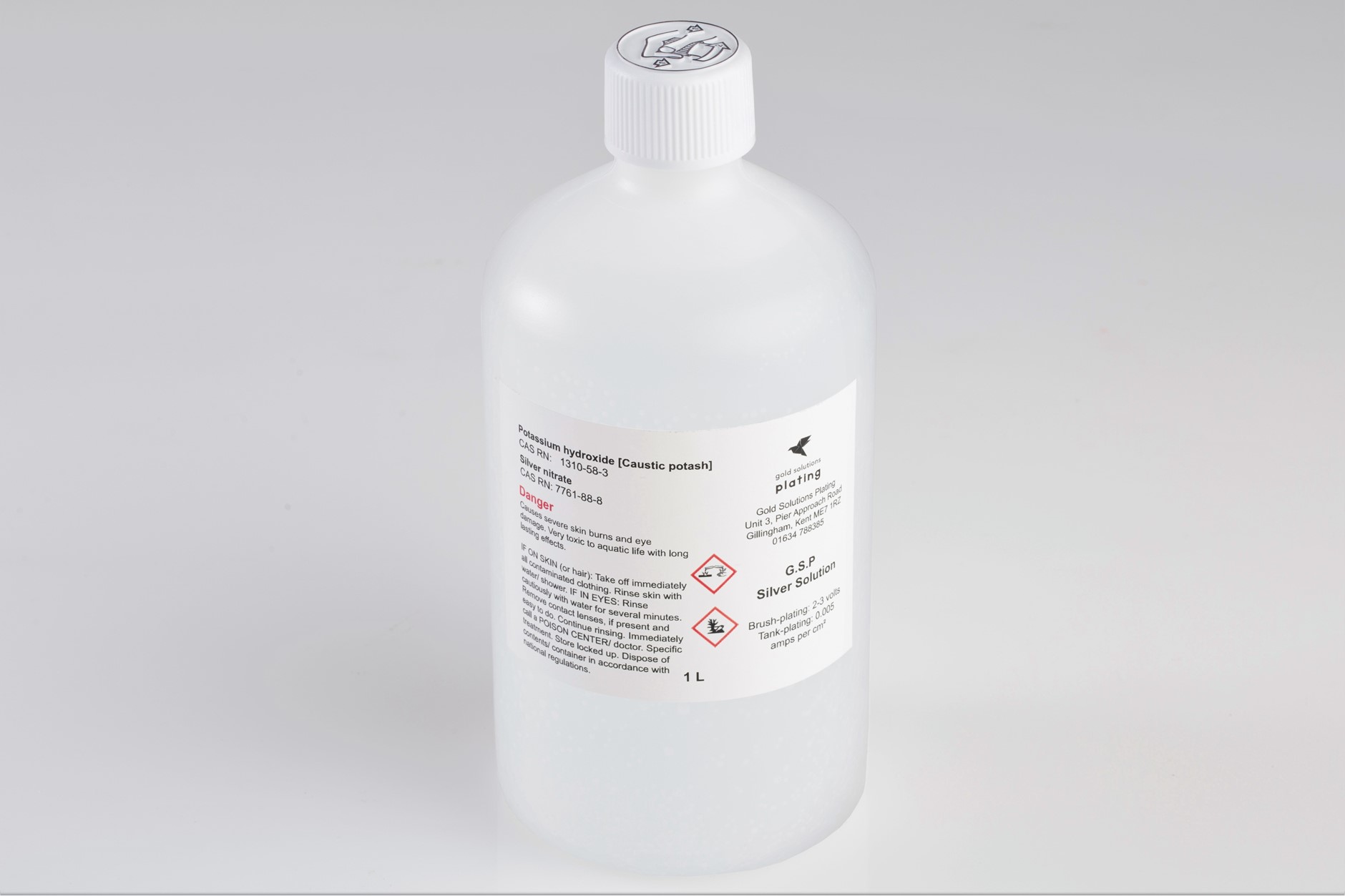 G.S.P Silver Plating Solution
Our G.S.P Silver Plating Solution contains 12 grams of silver per litre and plates to a brilliant white finish. It is common for silver plating solutions to take on a milky or even black tone which requires buffing to remove, but with our solution, this is less likely and your plated item will require little, if any, polishing afterwards. The solution is used most to plate kitchenware, jewellery, and antiques.
For optimum performance, use with our G.S.P Brush Plating Probes or 316 Stainless Steel Flat Tank Plating Anodes.
(Image shows 1L bottle)
Overview of use
Instructions for use of:
G.S.P Silver Plating Solution
Pen plating:
3 volts
Brush plating:
2-3 volts
Tank plating:
0.005 amps per cm2
Additional notes:
While brush / tank plating, you may eventually notice the surface turning milky. This is nothing to worry about and can be polished off afterwards. To reduce this, heating the solution to 40 degrees Celsius may help.
When brush plating, be extra sure to move the probe quickly (3 swipes per second) as burning can happen more easily with silver solution than with most other plating solutions. If burning does occur, this can be buffed back.
Technical Specs
Description:
Silver plating solution which plates to a brilliant white finish.
Use:
Decorative finish
Plating modes?
Pen, brush, tank
Does it require heating?
No heating required unless tank size exceeds 5 litres.
Is it suitable for use with G.S.P Brush Plating Probes?
Yes
Part of Mirror Tech System?
No
Additional information:
Plates for longer without 'milking' of the surface occurring.
Safety information:
This chemical is classed as hazardous, always wear appropriate personal protective equipment (PPE) and ensure that you read and follow the Safety Data Sheet supplied for details on how to stay safe.
We Accept