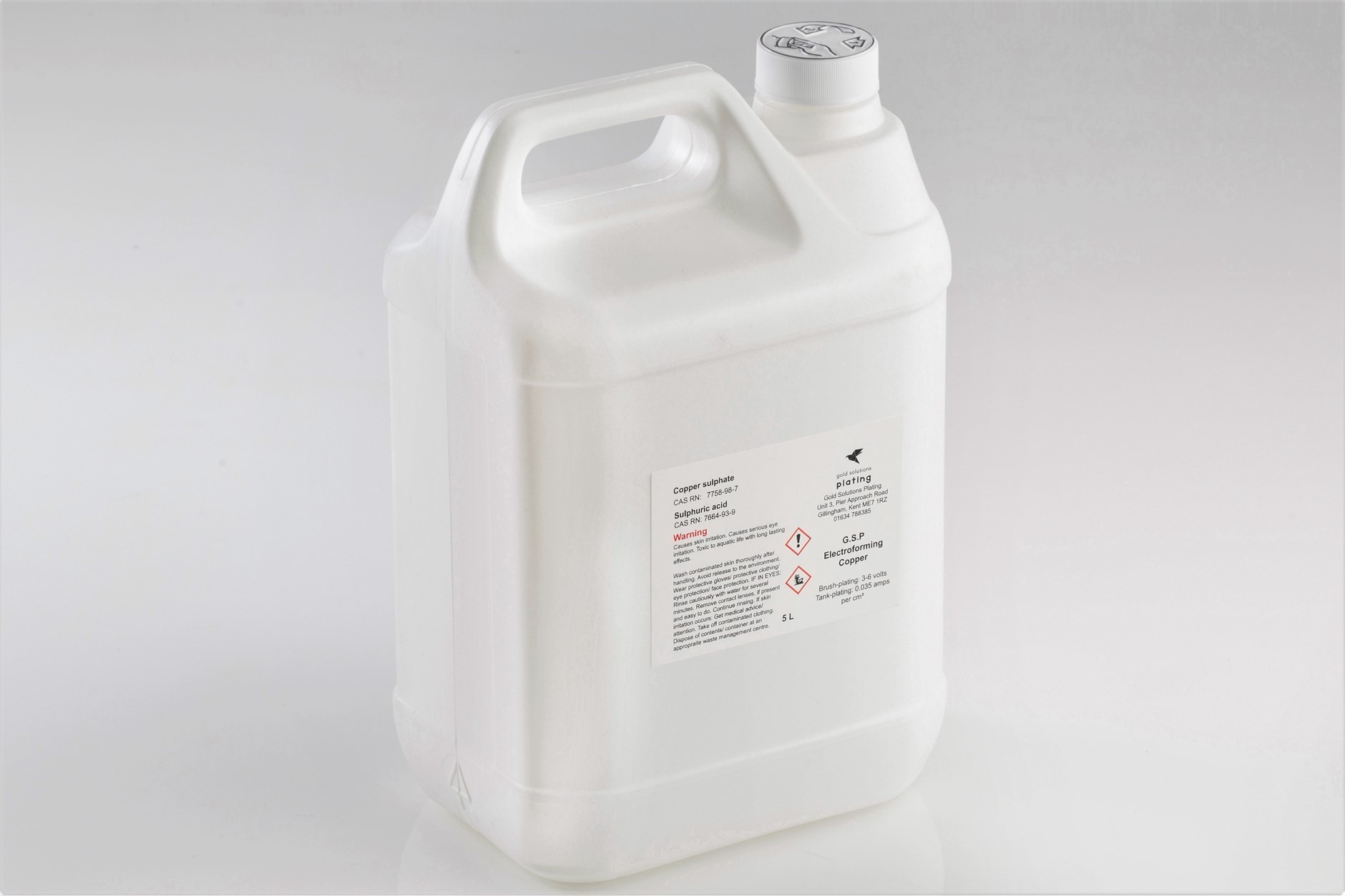 G.S.P Electroforming Copper Plating Solution
Our G.S.P Electroforming Copper is one of the most important and useful plating solutions to own. It is used primarily in our electroforming process (plating over non-conductive items) but is also used frequently when plating over conductive metals, because of the great benefits afforded when it is used as part of our Mirror-Tech System™.
When tank plating with our 10A SmartAmp Plating Machine, the solution can create a pristine mirror finish with no need for polishing before or after plating. This is particularly useful when dealing with items such as chains or other items with high levels of detail, where polishing compounds would be difficult to remove. The G.S.P Electroforming Copper will produce a flawless mirror finish, regardless of the condition of a surface to begin with.
In electroforming, the use of this solution forms the first plating step after using conductive paint, it can then be plated over directly with nickel, and then the finish of your choice. The G.S.P Electroforming Copper builds up very slowly, and this means that a thick, strong, heavy plate of copper can be deposited - ideal for metalizing non-conductive items.
The solution can also be brush plated, and whilst this will require some polishing, our Electroforming Copper expertly primes the surface of an item, so that it can be buffed very easily to a mirror finish, in no time at all. Overall, an invaluable solution and an essential part of your plating repertoire.
For optimum performance, use with our PDO Flat Copper Tank Anode or G.S.P Brush Plating Probes. Please see our tutorial video for more information about our electroforming process and plating on plastic.
(Image shows 5L bottle)
Overview of use
Instructions for use of:
G.S.P Electroforming Copper
Pen plating:
6 volts
Brush plating:
6 volts
Tank plating:
0.035 amps per cm2
Additional notes:
If brush plating, scratches and other small marks can be filled by plating slowly over and over. This may make the plate turn dark brown or black, but it will easily buff to a high shine.
If tank plating, air agitation is required to prevent tide lines in the plate. If a dull metal item is lowered into the tank, it will typically reach mirror levels of shine in around 30 minutes. If a conductive painted item is lowered into the tank, mirror levels of shine can take 1-3 hours to be achieved. It typically takes 6 hours + to achieve the thickness and strength of plate to meet commercial standards.
Do not place bare steel, stainless steel, or zinc metals into this solution.
To take advantage of the Mirror-Tech system, this solution should be used in conjunction with our PDO Flat Copper Tank Anodes / anode bags, 10A SmartAmp Plating Machine, tank heater and air agitation.
Please see our video 'Electroforming – Plating on Plastics' for a guide to using this solution.
Technical Specs
Name:
G.S.P Electroforming Copper Solution
Description:
Multi-use copper plating solution.
Use:
Used for electroforming as well as forming a polished layer on metals. Can also be used for filling scratches.
Plating modes?
Pen, brush, tank
Does it require heating?
No
Is it suitable for use with G.S.P Brush Plating Probes?
Yes
How much coverage per litre?
Coverage is determined by anodes used.
Part of Mirror Tech System?
Yes
Additional information:
Not to be plated directly onto any type of steel / zinc, instead pre-plate with G.S.P Copper Strike.
On zinc, follow G.S.P Copper Strike with G.S.P Electroforming Copper.
On all types of steel, pre-plate with G.S.P 18K Gold and if it is a mild steel, follow 18K Gold with a 40 minute nickel plate before plating in electroforming copper.
Safety information:
This chemical is classed as hazardous, always wear appropriate personal protective equipment (PPE) and ensure that you read and follow the Safety Data Sheets supplied for details on how to stay safe.
We Accept