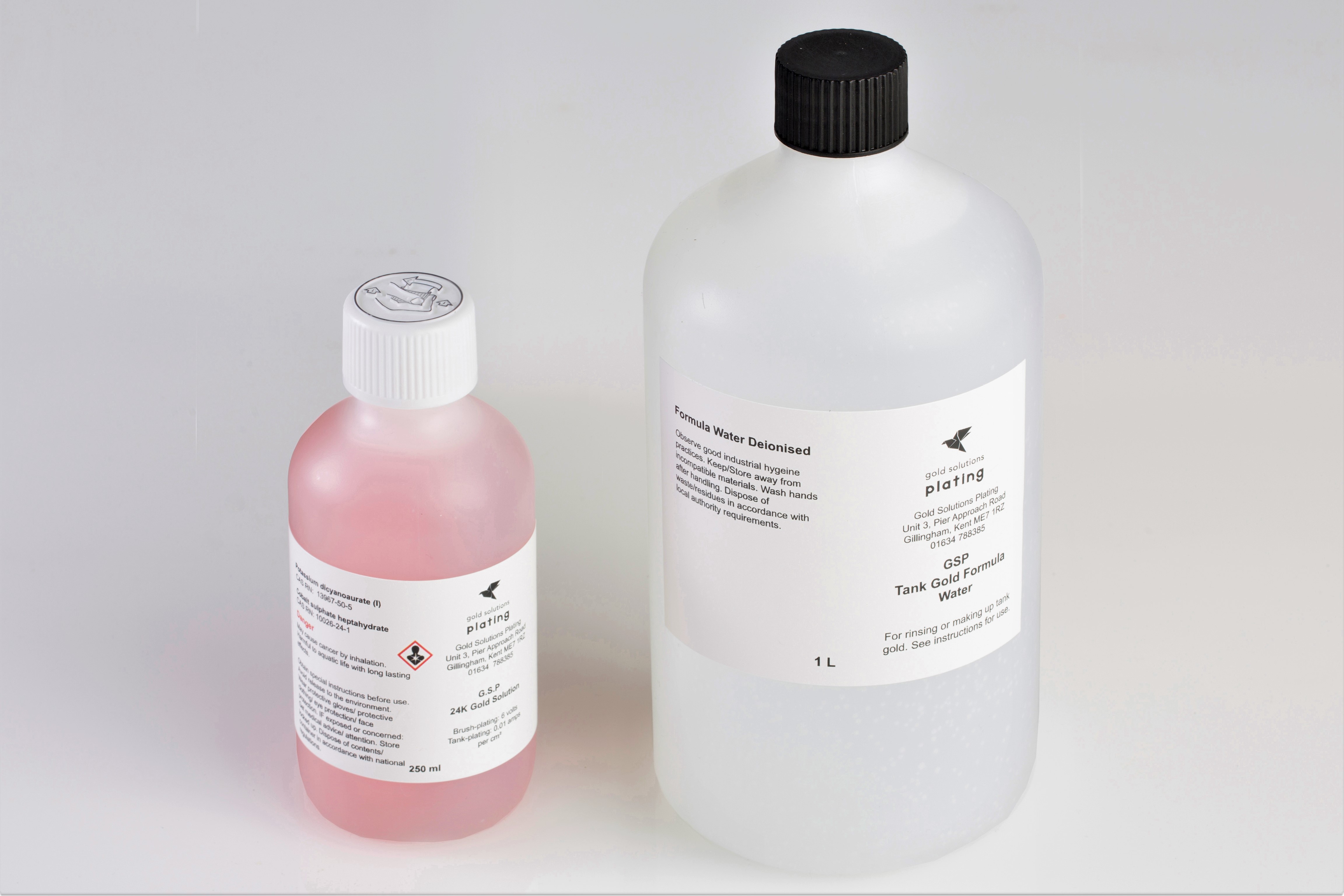 G.S.P Tank Gold Plating Solution
Our G.S.P Tank Gold Solution comprises two elements – our G.S.P 24K Gold Solution and our G.S.P Formula Water, which should be mixed together at a ratio of 1:4, to create a larger volume of gold for tank plating, at a great price. The solution plates to a luxuriously rich, buttery tone, as shown in the accompanying photograph.
For optimum performance, use with our 316 Stainless Steel Flat Tank Anodes (available separately or as part of our G.S.P Tank Conversion Kit).
Please note: due to the lower gold per litre content, the solution cannot be plated to a thickness exceeding 1 micron. For vermeil plating (2.5 microns), use our G.S.P 24K Gold Solution without diluting. Once mixed, the G.S.P Tank Gold Solution is not suited to brush or pen plating. None of our solutions should be mixed with either tap or mineral water as this will impede their performance.
(Image is of our bottles which mix to form 1L of product)
Overview of use
Instructions for use of: G.S.P Tank Gold
Pen plating: N/A
Brush plating: N/A
Tank plating: 0.01 amps per cm2
Additional notes:
Mix 1 part G.S.P 24K Gold Plating Solution to 3 parts G.S.P Tank Gold Formula Water, and stir with a plastic stirrer.
Tank plate at 0.01 amps per cm2. Make sure that the item is either swayed gently but continuously in the tank or that air agitation is placed directly under the item. This prevents cloudy plating.
Tank Gold Solution can plate up to 1 micron thickness only.
Technical Specs
Description:
A 2-part solution comprising G.S.P 24K Gold Solution and G.S.P Formula Water, to be mixed by the user, to produce a decorative plate.
Use:
A cheaper alternative for filling a large volume with gold solution.
Plating modes?
Tank
Does it require heating?
No
Is it suitable for use with G.S.P Brush Plating Probes?
No
How much coverage per litre?
813cm2 per litre (based on 1 micron thickness)
Part of Mirror Tech System?
No
Additional information:
Cannot be used for plating thicknesses over 1 micron. Plating times with this solution are increased versus tanking with our G.S.P 24K Gold Plating (without dilution).
Safety information:
This chemical is classed as hazardous, always wear appropriate personal protective equipment (PPE) and ensure that you read and follow the SDS sheet supplied for details on how to stay safe.