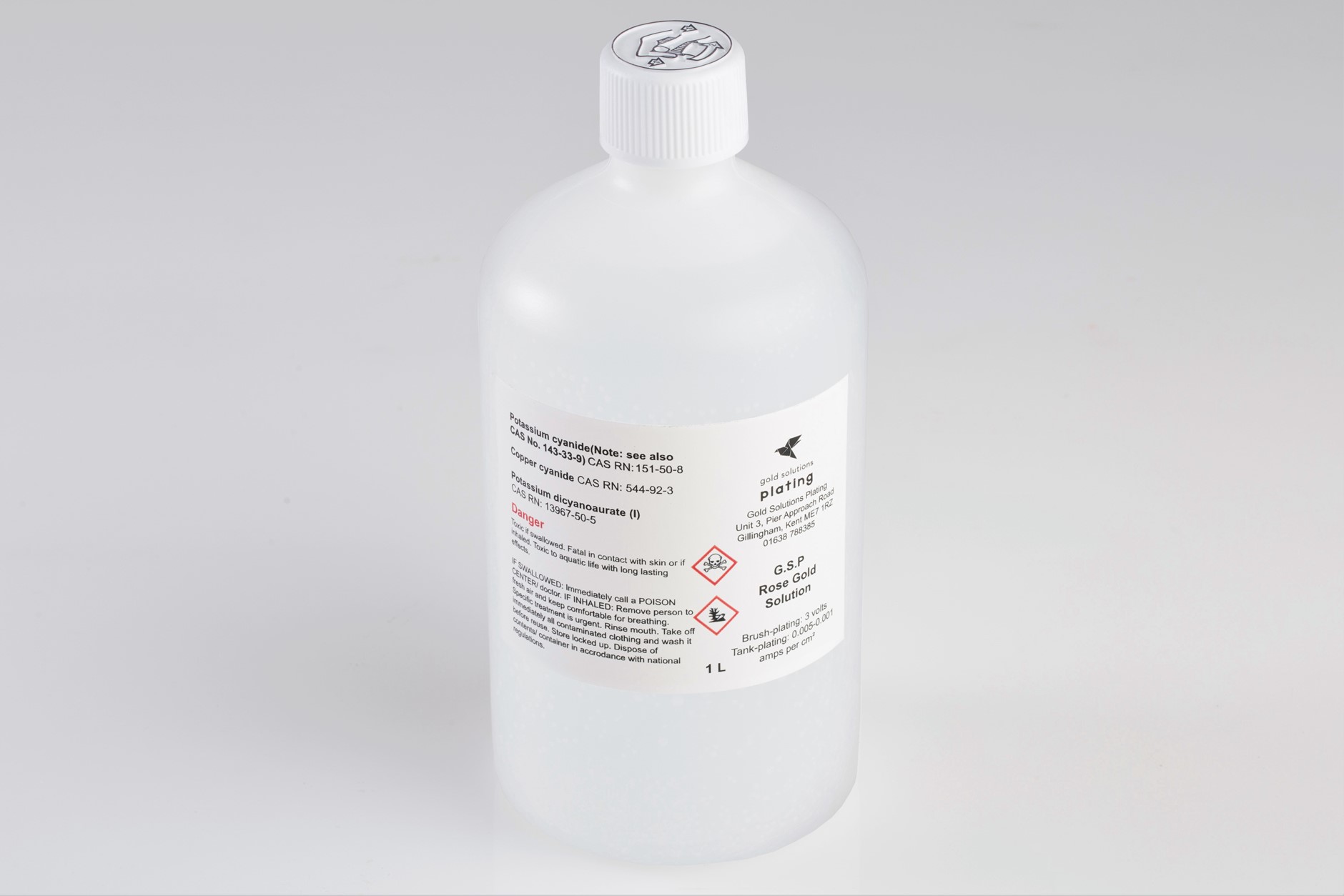 G.S.P 18K Rose Gold Plating Solution
Our G.S.P 18K Rose Gold Plating Solution contains 4 grams of gold per litre and plates a deep, reddish tone. It is suited to brush plating, pen plating, and tank plating and requires heating to 40 degrees along with a flash-plate (thin layer) of our G.S.P 24K Gold Solution prior to plating. It is hard-wearing and can be plated to vermeil thickness (2.5 microns). The solution is popular for use on jewellery, luxury handbag accessories and high-end household ornaments.
For optimum performance, use with our G.S.P Brush Plating Probes or 316 Stainless Steel Flat Tank Plating Anodes.
(Image shows 1L bottle)
Overview of use
Instructions for use of:
G.S.P Rose Gold Solution
Pen plating:
3 volts
Brush plating:
2 volts
Tank plating:
0.005 amps per cm2
Additional notes:
Requires heating to 40-50 degrees Celsius. When plated unheated, it will require a post-polish. Polishing is easy with the use of 'Brasso Metal Polish Wadding' (available from supermarkets/online), as this instantly converts any copper oxides, producing a shiny finish.
Technical Specs
Description:
18K rose gold plating solution
Use:
Decorative finish
Plating modes?
Brush, tank
Does it require heating?
Yes, heat to 40-50 degrees Celsius.
Is it suitable for use with G.S.P Brush Plating Probes?
Yes
How much coverage per litre?
1966cm2 per litre (based on 1 micron thickness)
Part of Mirror Tech System?
No
Additional information:
Used mainly on jewellery.
Safety information:
This chemical is classed as hazardous, always wear appropriate personal protective equipment (PPE) and ensure that you read and follow the Safety Data Sheet supplied for details on how to stay safe.
We Accept