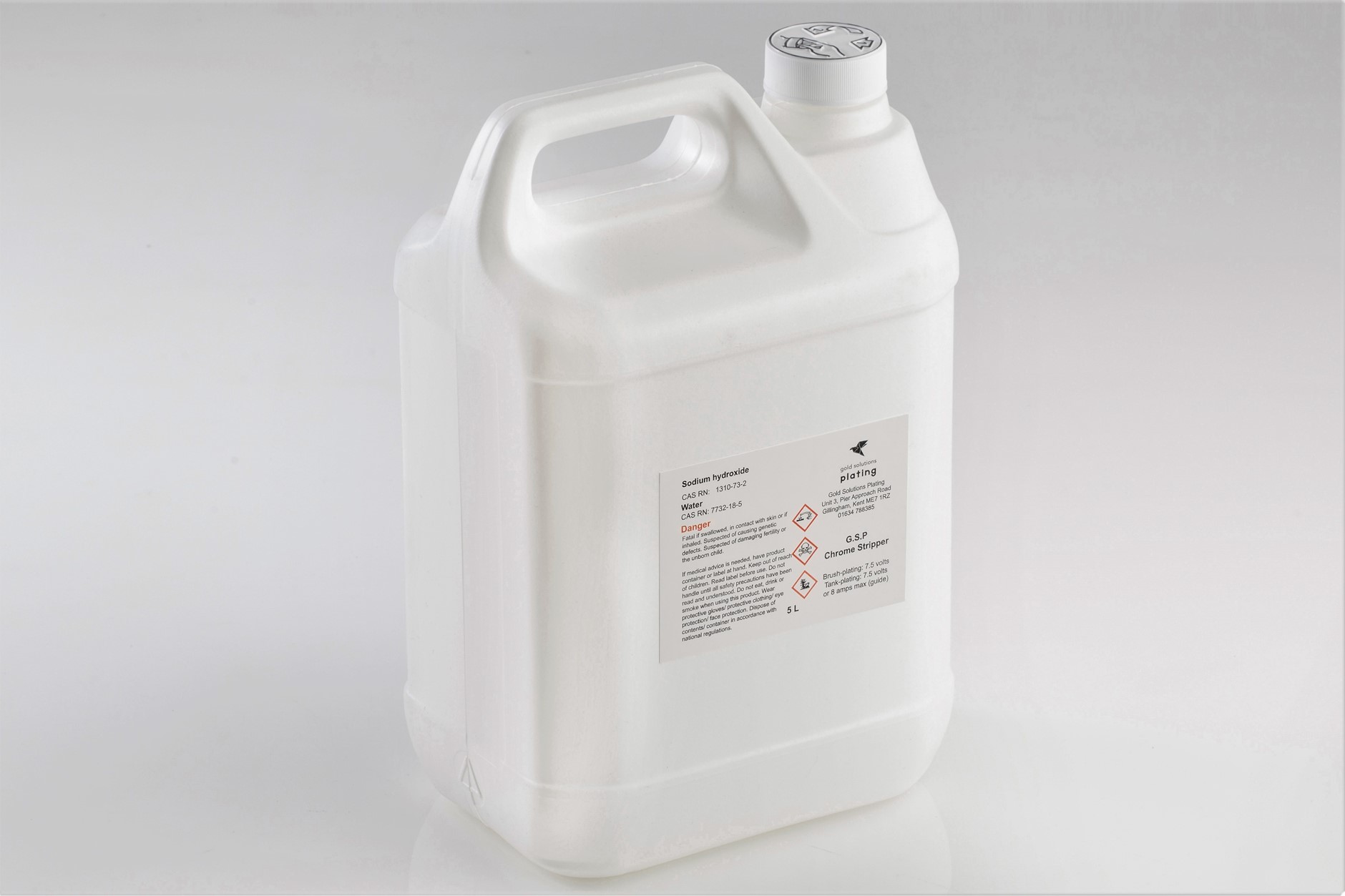 Our G.S.P Chrome Stripper is vital for plating over items that are chrome plated, as chrome cannot be deposited onto directly. Unusually, with this solution you need to reverse the red and black plating wires prior to using for stripping to be successful. Once chrome is stripped, the underlying nickel will be visible, and this will need activating using our G.S.P Nickel Activator, before proceeding to deposit the final finish such as gold or silver. G.S.P Chrome Stripper solution can be used in tank plating, brush plating, and pen plating situations.
For optimum performance, use with our G.S.P Brush Plating Probes or 316 Stainless Steel Flat Tank Plating Anodes.
Please note: although the solution changes colour during use, this is not a single use solution. As with all our solutions, it is designed to be used again and again.
(Image shows 5L bottle)
Overview of use
Instructions for use of:
G.S.P Chrome Stripper
Pen plating:
7.5 volts reverse current
Brush plating:
7.5 volts reverse current
Tank plating:
7.5 volts or 8 amps (whichever comes first)
Additional notes:
Positive and negative wires must be reversed for chrome stripping to work. Chrome stripping will turn your solution and/or swabbing yellow, this is fine, and the solution/swabbing can be used again.
You can use the fact that the swabbing turns yellow to help you to gauge when to stop chrome stripping (when brush plating). If you think that you have removed all of the chrome, simply let all of the yellow drain out from your swabbing and reapply chrome stripper over the item. If swabbing turns yellow again, this means that there is still chrome on the item. If the swabbing does not turn yellow, it means that the item has been successfully stripped.
When tank stripping, any area of the item that is still covered in chrome will not form bubbles, any area where chrome has been stripped will have visible bubbles. When you can see all parts of the item encased in bubbles, leave the item in for another minute or so to be sure.
You must remember to switch the wires back at the end of any chrome stripping stage to avoid damaging the piece.
Technical Specs
Description:
Plating prep chemical.
Use:
Used for removing chrome layer prior to decorative plating.
Plating modes?
Pen, brush, tank
Does it require heating?
No
Is it suitable for use with G.S.P Brush Plating Probes?
Yes
How much coverage per litre?
N/A
Part of Mirror Tech System?
No
Additional information:
Will turn yellow through use but this does not affect its future performance.
Safety information:
This chemical is classed as hazardous, always wear appropriate personal protective equipment (PPE) and ensure that you read and follow the Safety Data Sheet supplied for details on how to stay safe.
We Accept