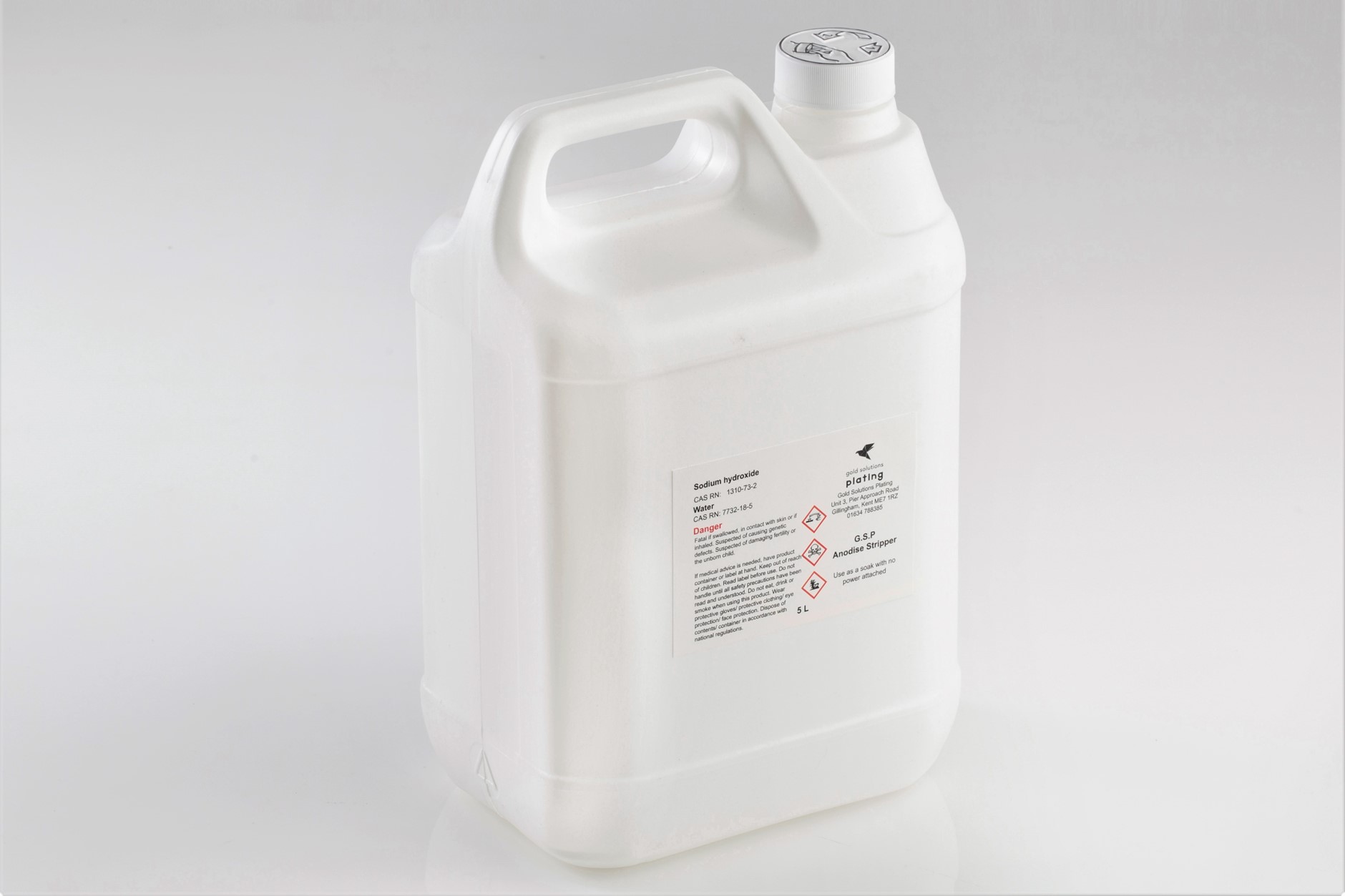 Our G.S.P Anodise Stripper is essential when dealing with anodised aluminium (aluminium which has been dyed). Dye must be stripped before you can move onto preparing the aluminium with our G.S.P AllyCu Solution (a vital step in the aluminium plating process). Simply lower the anodised piece into the Anodise Stripper, with no power, for between one and three hours and you will be ready for the next step. Our G.S.P Anodise Stripper is used often when plating mobile phone casings, which are frequently made from anodised aluminium.
(Image shows 5L bottle)
Overview of use
Instructions for use of:
G.S.P Anodise Stripper
Brush plating:
N/A
Tank plating:
N/A
Additional notes:
Use no power or anodes, lower the anodise aluminium part until fully submerged in the solution and leave for 1-2 hours. The liquid will change colour depending on the colour of the anodise on the original part but the solution can be reused despite this discolouration.
Technical Specs
Description:
Prep chemical for coloured aluminium.
Use:
Removes anodise (colouring) from aluminium, preparing it for next step in plating process (application of G.S.P AllyCu Solution).
Plating modes?
N/A
Does it require heating?
No
Is it suitable for use with G.S.P Brush Plating Probes?
N/A
How much coverage per litre?
N/A
Part of Mirror Tech System?
No
Additional information:
Requires no power, only anodised aluminium requires the use of G.S.P Anodise Stripper.
Safety information:
This chemical is classed as hazardous, always wear appropriate personal protective equipment (PPE) and ensure that you read and follow the Safety Data Sheet supplied for details on how to stay safe.
We Accept