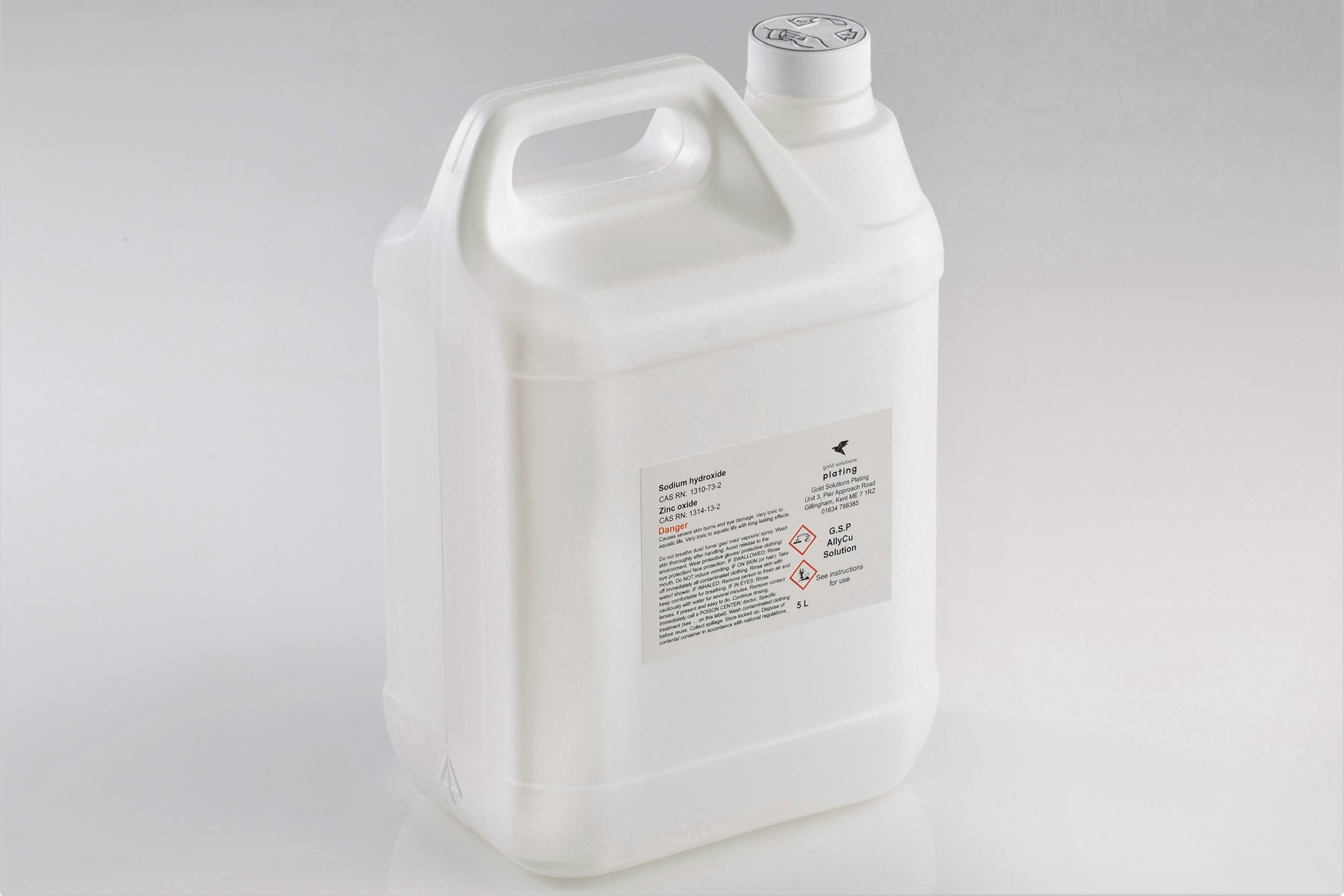 G.S.P AllyCu Zincate Solution
Our G.S.P AllyCu Zincate Solution is necessary for successful plating over aluminium, as this requires several steps. The solution should be used at the beginning of the plating process when working with this metal. It deposits a coating of zinc, preparing the aluminium for nickel plating (the stage prior to the application of your chosen metal finish such as gold or silver).
Watch our demonstration video: How to Plate Aluminium to learn how to use G.S.P AllyCu Zincate Solution.
Please note: this solution is not suited to brush plating and should be used with kits in our G.S.P Prodigy and G.S.P Recruit ranges.
(Image shows 5L bottle)
Overview of use
Instructions for use of:
G.S.P AllyCu Zincate Solution
Brush plating:
N/A
Tank plating:
N/A
Additional notes:
Please see the video for information about plating on aluminium with the use of the G.S.P AllyCu Solution. The product comes with comprehensive instructions, please refer to these when working with this chemical.
Technical Specs
Description:
Prep chemical for aluminium.
Use:
Used to deposit a zinc oxide on prepared aluminium to enable nickel plating.
Plating modes?
N/A
Does it require heating?
No
Is it suitable for use with G.S.P Brush Plating Probes?
N/A
How much coverage per litre?
N/A
Part of Mirror Tech System?
No
Additional information:
Requires no power. Will turn most aluminium a dark colour.
Safety information:
This chemical is classed as hazardous, always wear appropriate personal protective equipment (PPE) and ensure that you read and follow the Safety Data Sheet supplied for details on how to stay safe.
We Accept