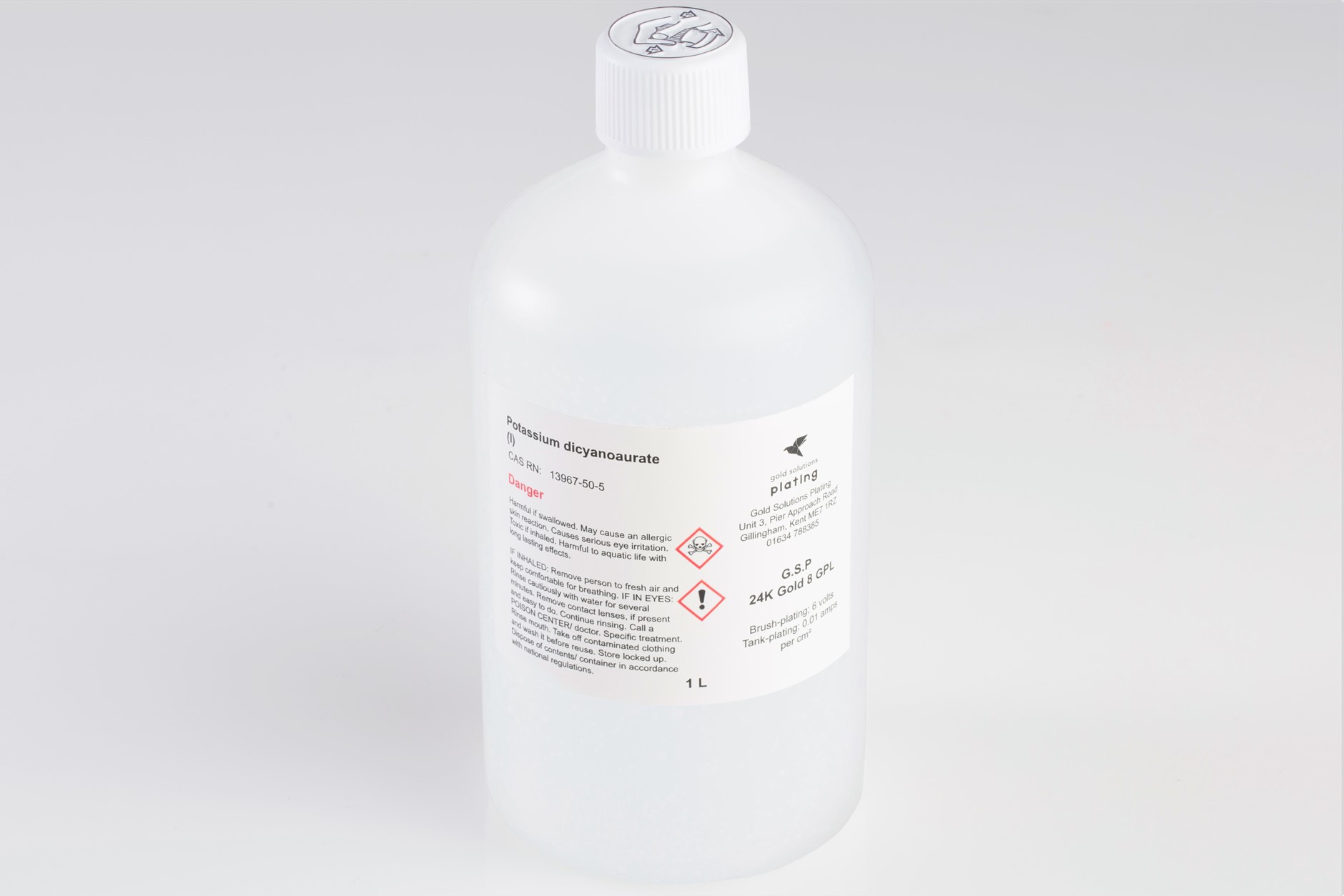 G.S.P 24K Gold Plating Solution 8GPL
Our G.S.P 24K Gold 8GPL formula, contains 8 grams of gold per litre, can be plated to a higher thickness than our regular 24K gold solution and can be soldered onto. Because the solution has not been cobalt-hardened, it makes for a more suitable gold plate for electrical contacts and is frequently used as a final step in through-hole plating on PCB circuit boards.
It requires no heating and can be used for blending your own shade of colour by adding our G.S.P Nickel Plating Solution or G.S.P Electroforming Copper Solution, enabling you to create varying shades of yellow gold or rose gold respectively.
For optimum performance, use with our G.S.P Brush Plating Probes or 316 Stainless Steel Flat Tank Plating Anodes.
(Image shows 1L bottle)
Overview of use
Instructions for use of:
G.S.P 24K Gold 8GPL
Pen plating:
6 volts
Brush plating:
6 volts
Tank plating:
0.01 amps per cm2
Additional notes:
When tank plating, sway item gently but continuously to avoid cloudy plating. Alternatively, use air agitation under the item that is being plated.
When brush plating, probe must be moved quickly, no slower than 3 swipes per second.
Technical Specs
Description:
8 gram per litre content 24K gold solution without hardener additive.
Use:
Creating different shades of gold / PCB boards / decorative finish.
Plating modes?
Pen, brush, tank
Does it require heating?
No
Is it suitable for use with G.S.P Brush Plating Probes?
Yes
How much coverage per litre?
3933cm2 per litre (based on 1 micron thickness)
Part of Mirror Tech System?
No
Additional information:
Can be soldered onto.
Safety information:
This chemical is classed as hazardous, always wear appropriate personal protective equipment (PPE) and ensure that you read and follow the Safety Data Sheet supplied for details on how to stay safe.
We Accept