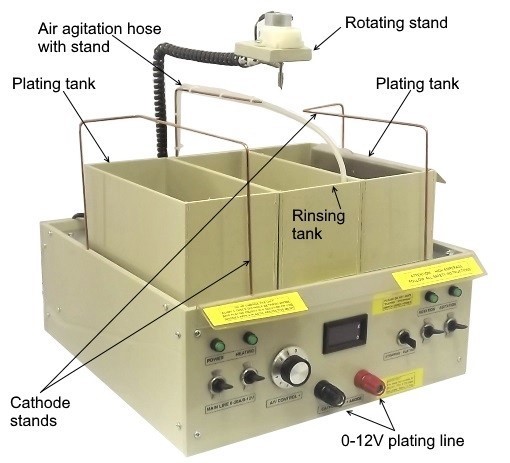 20 Amp 5-IN-1 Professional Electroplating Station
Our 20 Amp tank plating electroplating machine has 6 professional options for stripping, activating, plating, heating, agitation and rotating. You have everything you need in one neat and tidy workstation. This set-up comes with 3 built-in 1-litre tanks and is ideal for plating jewellery in a variety of precious metal finishes. This product also offers the option for brush plating and pen plating with the additional purchase of our G.S.P Brush Plating Probes / Pen Plating Wands (sold separately).
Please note: No prep chemicals, plating solutions, or polishes are included with this product. If you would like to purchase this machine with any of these additional products, please browse our chemicals section and add them to your order.
This item is a special made-to-order product, please allow a minimum of 9-12 working days for delivery.
Contents Listing
1 x Electroplating Station
Please note: no chemicals / solutions are supplied with this set-up, please browse our chemicals or enquire for more information.
Overview of use
Electroplating station for general tank electroplating. Please see below for more details specific to this product.
Input: 110 VAC - 240 VAC
Output: 0-12 VDC / 0-20 ADC continuously + 30 A on pick
Plating line with 4-mm connectors for your comfort
1 CRS (Cathode Rotating Stand 4-6 RPM) with plastic gears (to avoid corrosion by chemicals evaporated from tanks) and with a movable motor on a metal arm (rod)
3 plastic PP tanks with dimensions in INCH (mm): 8"x3,3/5"x3,3/5"H (190x90x90(H))
Movable 50-Watt adjustable glass heating element with a thermostat
Plating-Stripping switch (for removing all chrome from previously plated objects
Digital A/V meter on the front panel for your convenience
Air agitation system with a clear PVC hose on a metal arm (including compact air compressor) for high-quality coating and to save your chemicals
Automatic overload cut-off system
Two sets of cables: for mainline and for brush/pen/CRS.
Set of anodes for cleaning, copper, nickel, zinc, chrome, gold, and silver plating purposes
Approximate dimension of the station in INCH (mm) 13"x13"x16"H (325x325x300(H) with arms
Beige-coloured polypropylene plastic body (chemically resistant material including acids) for your safety
An electroplating brush/pen can be connected to the main plating line as well (not supplied but available in our online shop - see related products)
Set of anodes for cleaning, copper, nickel, zinc, chrome, gold, or silver plating processes
3 standard polypropylene plastic tanks
Technical Specs
Name of product:
20 Amp 5-IN-1 Professional Electroplating Station
What is the maximum amp output of the supplied plating machine?
30 amps (on pick) 20 amps constant
Please note that this machine comes with a UK plug - to use in the US or other countries, all that is required is a plug converter - this will convert a UK 3 pin plug into a standard 2 pin mains plug. These are inexpensive and available in hardware stores / online.
Plating modes:
Tank (pen and brush plating is possible with the addition of G.S.P Brush Plating Probes but these are not supplied)
Mirror Tech capabilities:
No
Is this kit compatible with all Gold Solutions Plating chemicals / solutions?
Yes
Does this kit come with the G.S.P 5 Point Support Package?
Yes
Safety information:
Please ensure that you read and understand all instructions included with this product before use.
When using chemicals (not supplied) which are classed as hazardous, always wear appropriate personal protective equipment (PPE) and ensure that you read and follow the supplied Safety Data Sheets for each chemical for details on how to stay safe.
We Accept