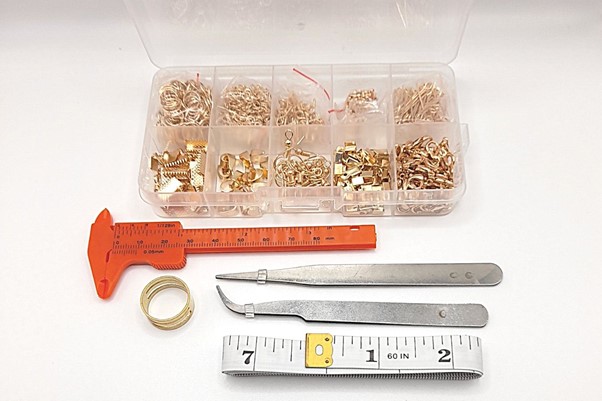 Jewellery Making and Repairs Equipment Pack
An ideal kit for DIY or professional jewellery crafters, this product contains essential accessories and tools to make jewellery which can then go on to be electroformed using our G.S.P Belle Fleur, G.S.P Recruit BR2 or G.S.P Prodigy kits.
The kit contains a range of handy accessories including ear hooks, horse buttons, lobster buttons, sheep eye nails, melon buttons and nine pins as well as a selection of tools. All of this is presented in a plastic segregated carry case for convenience.
Please see our Jewellery Making Beads for further inspiration.
Contents Listing
This kit contains:
Accessories:
275 pcs 4mm rings
130 pcs 8mm rings
50 pcs 7mm clip
70 pcs 10mm sheep eye nail
20 pcs 20mm ear hook
20 pcs 10mm horse button
50 pcs 12mm lobster button
70 pcs 26mm nine-pin
20 pcs 9mm melon button
Tools:
1 pcs plastic caliper
5 metres of 1.5mm wax rope
1 pcs ring ring
1 coil of 0.6 copper wire
1 coil of 0.38mm steel wire
1 coil of 0.6mm elastic wire
1 pcs 60 inch tape measure
1 pair of toothless pliers
1 pair of tweezers
We Accept